MAKE 'EM LAUGH! The Funny Men of Broadway & Hollywood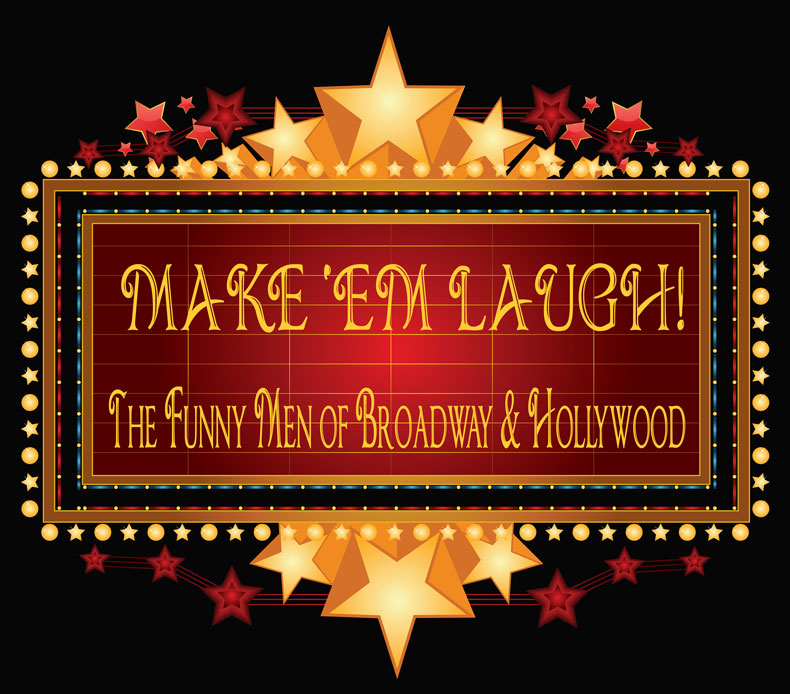 MAKE 'EM LAUGH!  The Funny Men of Broadway & Hollywood
Make 'em Laugh! salutes the great comics of Broadway and the Movies. From Bert Lahr to Nathan Lane, from Jimmy Durante and Groucho Marx to Zero Mostel, from Ray Bolger to Donald O'Connor, audiences have roared at the comics who tickled and entertained us on the Great White Way and the Silver Screen.

The comics of Burlesque, Vaudeville and Broadway created characters that have become a part of our cultural heritage. Zero Mostel's Tevye, Bert Lahr's Cowardly Lion, Nathan Lane's Max Bialystock, and Groucho Marx's Captain Spaulding will live forever in the musical memories of generation after generation of theatre and movie goers.

Magic is made when serendipity brings together the perfect clown and the perfect song: Ray Bolger and If I Only Had A Brain, Groucho Marx and Lydia, The Tattooed Lady, Paul Lynde and Kids, or Stanley Holloway and Get Me To The Church On Time. The comic and the song become one.

 Make 'em Laugh! celebrates the klutzes, clowns and goofballs who made us laugh and forget the cares of the day. Make 'em Laugh! lifts a dribble glass and toasts these wacky musical greats.

Oh, you could study Shakespeare and be quite elite,
And you could charm the critics and have nothing to eat,
Just slip on a banana peel, the world's at your feet
Make 'em laugh, make 'em laugh, make 'em laugh!
My husband and I have enjoyed three classes with you and we think you're absolutely tops.   You have recaptured an era that we absolutely enjoy.  Thank you for class.