Over The Rainbow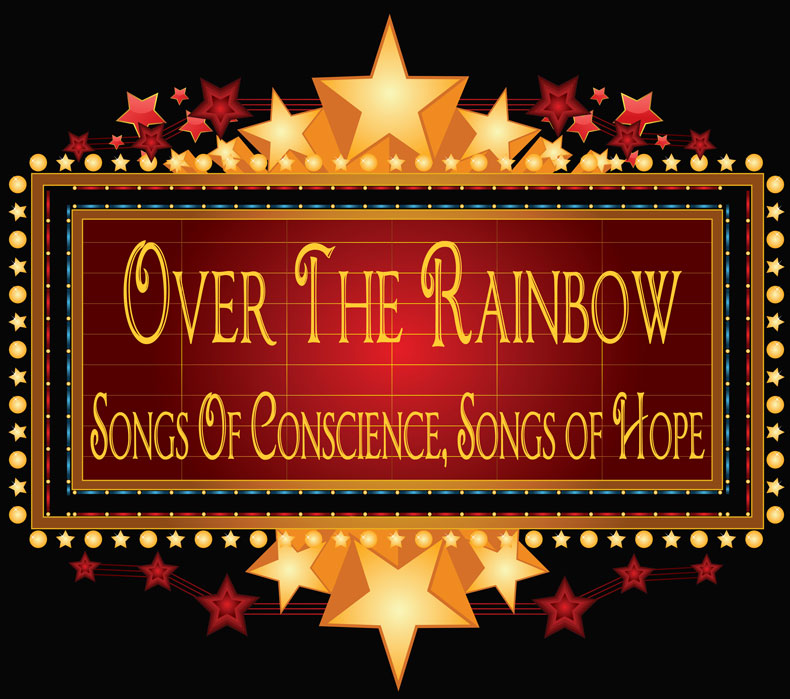 OVER THE RAINBOW - Songs of Conscience, Songs of Hope
Over the Rainbow, Songs of Conscience, Songs of Hope explores the American Musical Theatre as a place which as always honored the outsider, the other. Theatre has been a venue where generations of primarily Jewish-American writers, composers & lyricists fashioned their own identities as Americans. The Broadway stage was a space where artists could write themselves into the scenario of mainstream America.
Jews, African-Americans, Gay and Lesbians, Latinos, and Women found the theatre to be a
welcoming place where who you were was less important than what you did and how well you did it. As outsiders, all of these groups have what W. E. B. DuBois called "double
consciousness" which is "the sense of always looking at one's self through the eyes of
others." Over the years, audiences have been able to see and embrace new and different
faces in musicals which have become the touchstones of our cultural life.
The American Musical Theatre celebrates our differences as Americans and has tackled
every imaginable social issue: Inter-racial marriage in Show Boat, Anti-Semitism and the rise of Nazi Germany in Cabaret, Racial Prejudice in South Pacific and West Side Story,
Homophobia in La Cage aux Folles, and America's melting pot in Ragtime. Today, Musical
theatre continues to be the voice of conscience and hope for the "others" and outsiders who
continue to aspire to the American dream.
Over The Rainbow celebrates the cockeyed optimism of Irving Berlin, George and Ira
Gershwin, Harold Arlen, Rodgers and Hammerstein, and Jerry Herman. As our nation
changes so does our theatre. The new faces of Broadway continue the tradition of those who
came before them and are currently showing audiences who we are and what we look like as
Americans.
OVER THE RAINBOW: Songs of Conscience, Songs of Hope
"Hanson connects theatre with American history, enabling us to see the "Big Picture" of where we came from and where we're going as a society."