Carefully Taught-Theatre of Conscience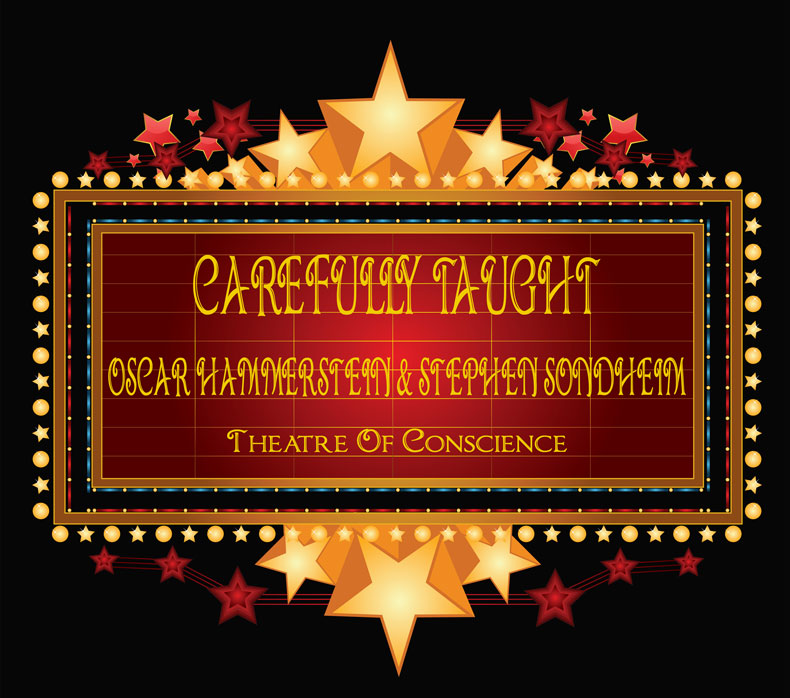 The Learning Curve presents:
CAREFULLY TAUGHT
OSCAR HAMMERSTEIN & STEPHEN SONDHEIM
Theatre of Conscience
"You've got to be taught to hate and fear, you've got to be taught from year to year,
It's got to be drummed in your dear little ear, you've got to be carefully taught . . ."
Oscar Hammerstein, South Pacific
Oscar Hammerstein II was a surrogate father and mentor to Stephen Sondheim.  Hammerstein passed on to Sondheim the craft and art of creating Musical Theatre.  "In one afternoon I learned more about songwriting and the musical theatre than most people learn in a lifetime."

Carefully Taught explores the theatre of conscience that is at the core of the musicals of Oscar Hammerstein and Stephen Sondheim. Both men explored social issues and subjects that had been off-limits in American Musical Comedy: Race prejudice, miscegenation, ethnic gang warfare, anti-immigration, the rise of Nazism in pre-war Austria, spousal abuse, and the moral responsibility of parenthood.

From Show Boat to Into The Woods, Carousel to Sweeney Todd, Oklahoma to Sunday In The Park With George, The Sound of Music to West Side Story, Carefully Taught celebrates the genius of Oscar Hammerstein and Stephen Sondheim as the two most influential artists of the American Musical Theatre. Both men managed to entertain and at the same time, speak to a higher moral truth in their work.
"Careful the things you say, children will listen.
Careful the things you do, children will see and learn . . ."
Stephen Sondheim, Into The Woods
It doesn't get much better than this. Richard Hanson is a shining example of what good teaching should be. He is a treasure that we are all blessed to have in Tucson.